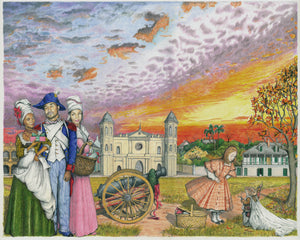 Signed and numbered, 17"x 14" colored print on card stock from an original in colored pencil
A study for a children's book illustration, this piece is placed in New Orleans' Jackson Square ca. early 1800s. The artist had 4 of his co-workers, who happened to be appearing on "The Young and the Restless" at the time, model his fantasy characters. From left to right they are Tonya Williams, Shemar Moore, Sienna Goines and Camryn Grimes. The drawing's title refers to a cannon which sounded the 9 PM nightly curfew in old New Orleans.
- from an original run of 1000. Distributed to the cast and crew of "The Young and the Restless" Only 200 are now available for sale.