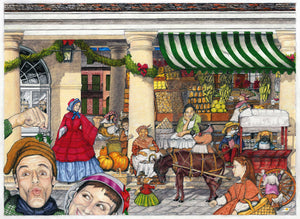 Signed and numbered 14" by 17" print from colored pencil on paper original
Concept illustration for a children's novel.

This print is inspired by a chapter from the children's novel. The print depicts the hurly-burly of the Old French Market of ancient New Orleans early Christmas Eve morning. It is filled with the hustle and bustle of fantastical last minute shoppers preparing for the old Creole custom of Reveillon which literally means "We wake" because it implies staying awake for dinner and other festivities that follow midnight mass on Christmas Eve.
The title, "Making Market" is derived from the old New Orleans French colloquialism for shopping at the Market, later updated to the modern English expression "making groceries", still heard in New Orleans today.

Models include the actresses Sharon Case and Camryn Grimes 



- from an original run of 1000. Distributed to cast and crew of "The Young and the Restless" Only 200 available for sale.